How To Earn Free CS:GO Skins in 2023?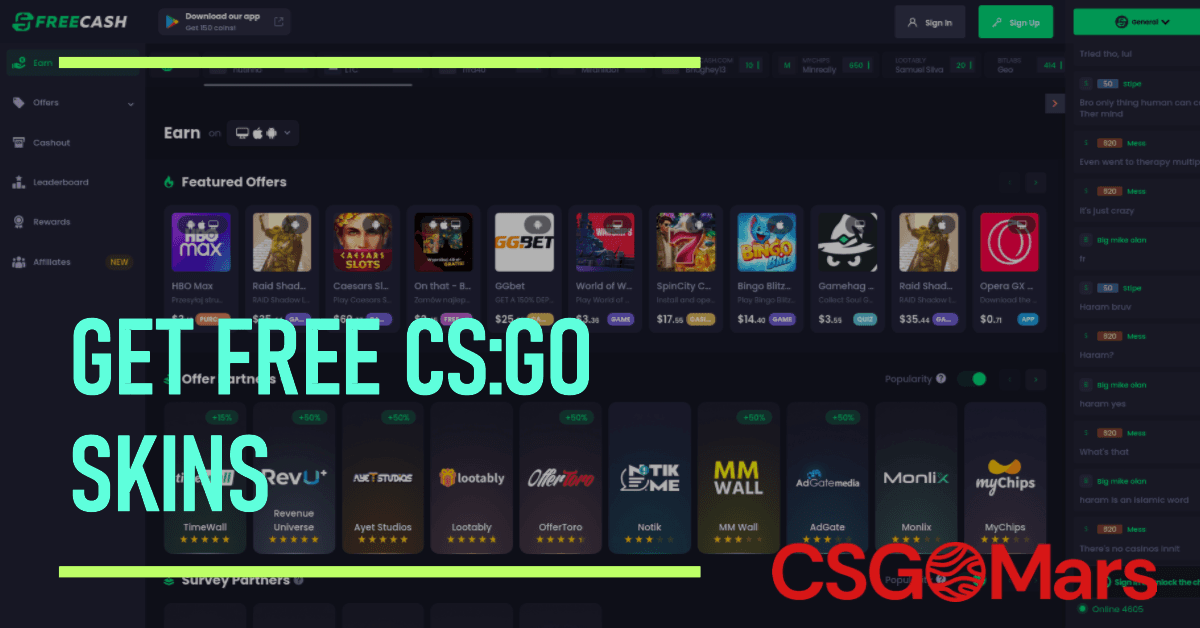 How to get free CS:GO skins?
If you're a big fan of CS:GO and want to add some new skins to your arsenal, you might be looking for ways to get them for free. Luckily, there are several sites out there that allow you to earn skins through various methods. One common method is by completing surveys or tasks on these sites in exchange for points. These points can then be redeemed for CS:GO skins. Another way to earn skins is by playing games on these sites or participating in giveaways. It's important to note that while some sites may offer "free" skins, you'll likely have to put in some effort to earn them. Additionally, it's important to make sure you're using a reputable site to avoid scams or fraud.
Ways to earn free CS:GO skins
Counter-Strike: Global Offensive (CS:GO) is a popular game played by millions of players worldwide. Skins are one of the most sought-after items in the game. Skins do not only enhance the visual appeal of your weapons but also increase their value. Buying skins from CS:GO marketplace sites or Steam marketplace can be expensive, so many players look to earn skins for free. In this article, we will explore ways to earn free CS:GO skins.
Earning CS:GO skins from offerwalls
Offerwalls are platforms that provide users with a range of tasks to perform to earn rewards such as gift cards, discount coupons, or CS:GO skins. These tasks include watching videos, taking surveys, downloading apps, and completing online offers from advertisers. Players can use offerwalls to earn points or coins, which they can redeem for CS:GO skins.
Some offer walls that provide free CS:GO skins including Freecash, CSGOPoints, and Idle-Empire. Keep in mind though that you may have to complete multiple offers to earn sufficient points to redeem skins.
Get free CS:GO skins by playing
Get skins from in-game drops
Players can also earn skins while playing CS:GO. In-game drops are the most common way of earning skins for free. At the end of a competitive game, a random player may receive a skin drop, which can be sold or used in-game. Each player has a maximum of two drop chances per week, which reset on Wednesdays.
To increase your chances of getting a rare skin, play on a community server, as you can receive skin drops by playing on servers with in-game item drops enabled.
Get skins from completing CS:GO operation missions
CS:GO Operations are limited-time events that provide players with unique missions and challenges to earn exclusive CS:GO skins. Players buy an operation pass to access these events, and completing missions earn operation stars, which unlock exclusive skins. Some missions may be difficult and challenging, but they can be completed in single-player mode.
CSGO Giveaways
Many bloggers and influencers host giveaways on their social media channels or on their websites. Participating in these giveaways allows players to have a chance to win CS:GO skins for free. The giveaways may require you to follow the host's social media pages or ask you to complete simple tasks to enter. It is essential to join the giveaway from legitimate sources and ensure that you understand their terms and conditions.
Get free skins with bonuses on CS:GO Gambling Sites
There are a lot of CS:GO gambling sites that offer bonuses and free codes that allow you to play games and win free skins. Players can participate in roulette, jackpot, and various other games to earn skins. The winnings can then be withdrawn, and you can use the skins in-game or sell them.
Keep in mind that gambling is not legal in some countries, and it is essential to ensure your safety by playing on reputable websites that have a provable fair system in place.
Top CS:GO Earning sites
There are several websites that allow players to earn free CS:GO skins, including the following:
It's essential to note that there are many fake and illegitimate CS:GO skin earning websites out there that scam players, so always do your research before committing time and effort to redeem skins on any website. Be sure to look for reviews and feedback from other players to ensure you use legitimate sites.
4 Important Factors for choosing good CS:GO Skin Earning Website
Before selecting a CS:GO skin earning website, here are some essential factors you should consider:
• Reputation: Always check the legitimacy of the website by searching for reviews and feedback from other players. You can also check forums and other discussion boards to see the website's reputation.
• Offers and Rewards: Choose websites that offer a variety of offers and rewards that you can complete to earn free skins. Websites that provide a range of options will give you more choices and better chances to earn skins.
• Easy redemption process: Choose websites that allow for simple and easy redemption procedures. Some websites require you to perform complex tasks to redeem skins, so be sure to select sites that have straightforward processes.
• User Experience: Choose websites that offer a great user experience, such as easy navigation and a great design.
Conclusion
In conclusion, there are many ways to earn free skins in CS:GO. Players can choose from in-game drops, completing operation missions, playing on community servers, offerwalls, giveaways, and gambling. However, it's essential to remain vigilant against scams and fake websites. Choose reputable and trustworthy websites that offer a variety of earning options and great user experience. With patience and dedication, players can come across a variety of free CS:GO skins, and it's all about finding the right resources.