Key Drop Promo Code and Review
If you are a fan of CS:GO skins gambling, you might have heard of Key Drop. In this article, we will provide an in-depth review of Key Drop, including its promo code, daily cases, games, deposit and withdrawal options, and customer support. So, let's dive in and explore all the features of this popular and legitimate CS:GO case opening website.
What is Key Drop?
Key drop is one of the largest and most popular CS2 case opening website. The website was launched in 2018 and has since become one of the most popular skins gambling websites in the world. Players can deposit money or skins into their accounts and use them to place bets on their favorite games.
In addition, Key-drop offers a unique feature called golden code, which is a code that can be redeemed for gold that you can later use to open cases in the gold area section. The golden code can be obtained through giveaways, promotions, or by depositing money into the account.
How To Use Key Drop Promo Code?
To use Key Drop Promo Code and receive free bonus follow these simple few steps:
Log in on Key-Drop with your Steam account

Click on the "Promotional Code" section at the top left of the homepage

Type "CSGOMARS" promo code

Click "Collect" and enjoy free bonus!
Key Drop Bonuses
Key-drop offers several bonuses and promotions to its users. These include:
Promo Code
The promo code is a bonus that you can use if you have a promotional code. If you are a new user you can use the "CSGOMARS" promotional code.
Golden Code
Golden code is a special promo code that you can use to get gold on Key-Drop. One of the ways of getting the golden code is to follow Key Drop on their Twitter account. They regularly share golden codes there.
Giveaways
On Key-Drop.com you can find giveaways in which you can participate to win CS:GO skins.

Free Gold
You can get free gold on Keydrop in the "Free Gold" section by completing various tasks, such as joining the website's discord server or following them on TikTok.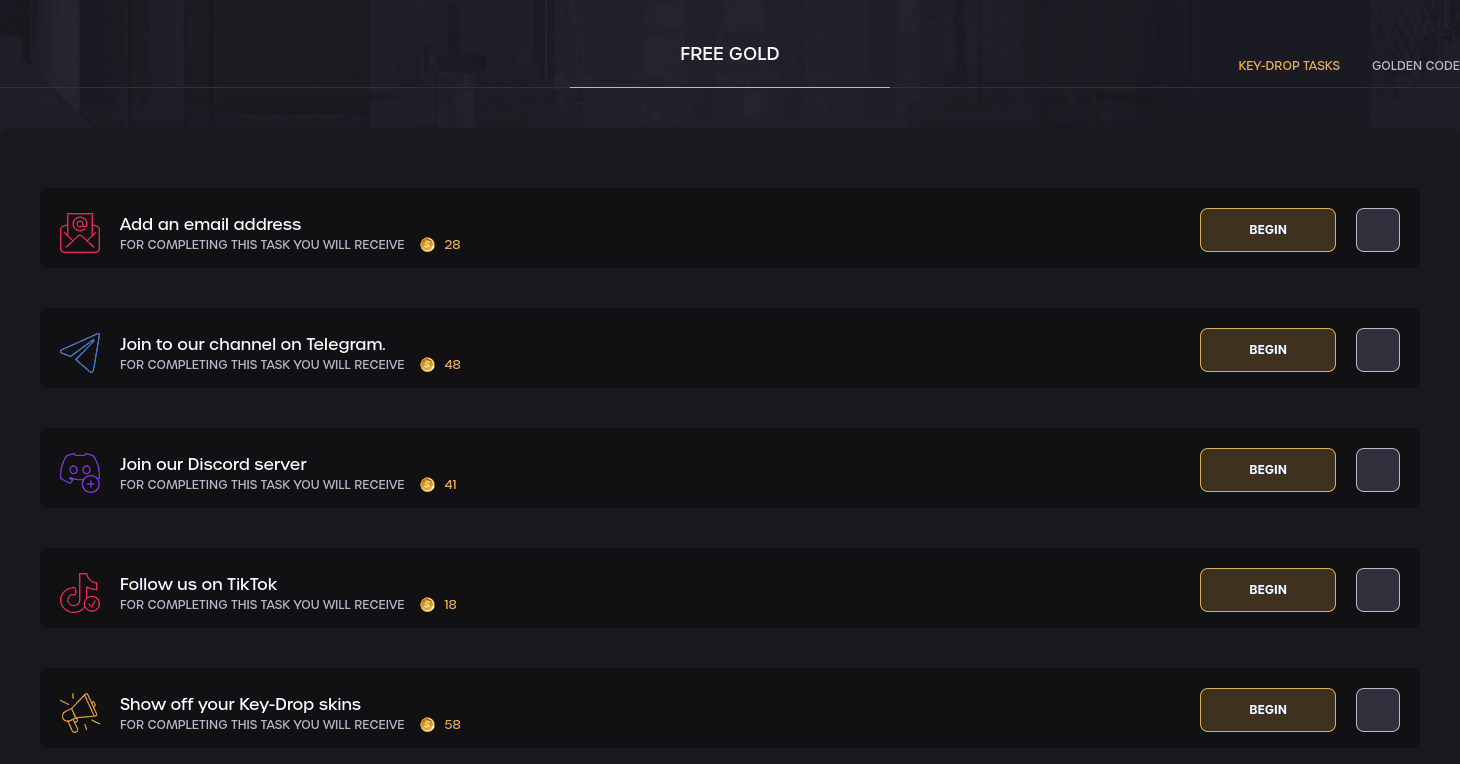 Daily Cases
Daily Case is another great bonus offered by Key Drop. You can get from these cases free gold, balance, or CS:GO skins. There are different levels of daily cases. The higher level, the better prizes. To open some cases you must meet some conditions. i.e. wager some amount of money or open particular case on the website.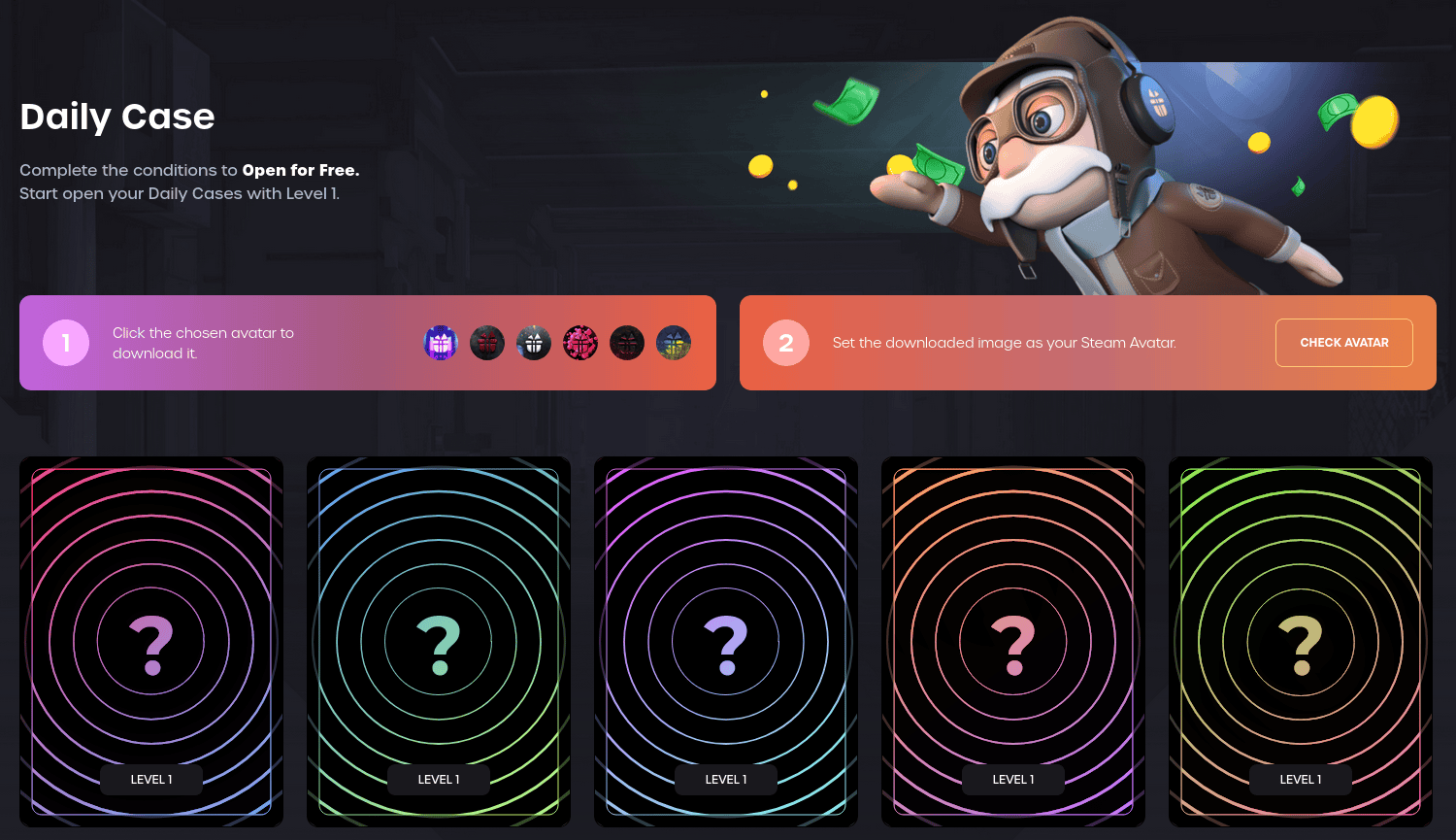 Free Case Battles
Free case battles is exclusive bonuses for active users on Keydrop. With free battles, you can compete against other users without spending your account balance and have a chance to earn cool skins! The Keydrop system creates free battles automatically, each with a random chest filled with surprises. To join, you'll need a special coupon that grants you access to one free battle every 24 hours. So what are you waiting for? Get ready to battle it out and collect some awesome loot!
Deposit and Withdrawal options
Deposit methods
Key Drop offers following deposit methods:
Skins
Cryptocurrencies (BTC, ETH, LTC, USDT, etc)
Gift cards (Kinguing, g2a)
PayPal
Visa, Mastercard
Skrill
Withdrawal methods
On Key Drop you can withdraw only CS:GO skins.
Key Drop Games
Key Drop offers many games that you can enjoy and potentially win big:
Case Opening
Case opening is the most popular feature on Key Drop. You can open cases that contain CS:GO skins with better RTP than VALVE cases.

Case Battles
Case Battle is a game in which from 2 to 4 players participate in case battles. The player that opens skins that are worth the most wins skins that he opened and skins of other players in this battle.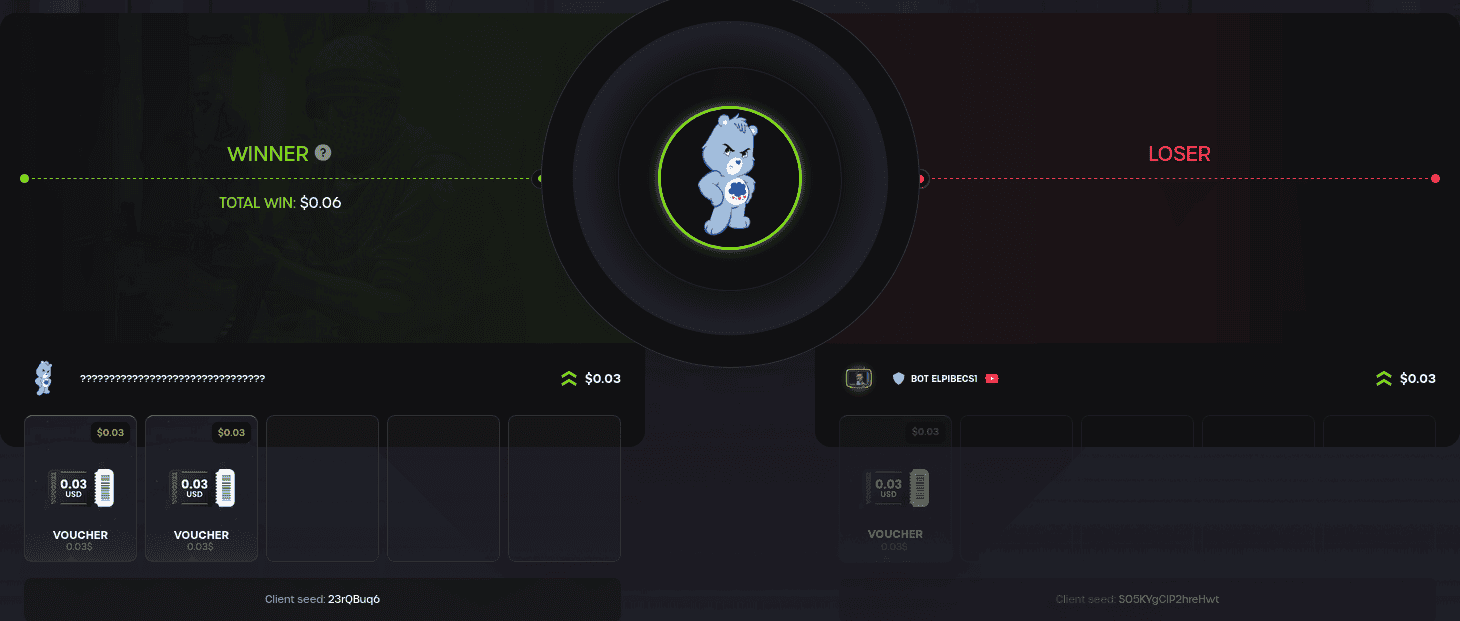 Upgrader
Upgrader is a game in which you can risk your skins to have a chance to upgrade them for better ones! Simply pick skins from your inventory and choose skins that you would like to receive on successful upgrade!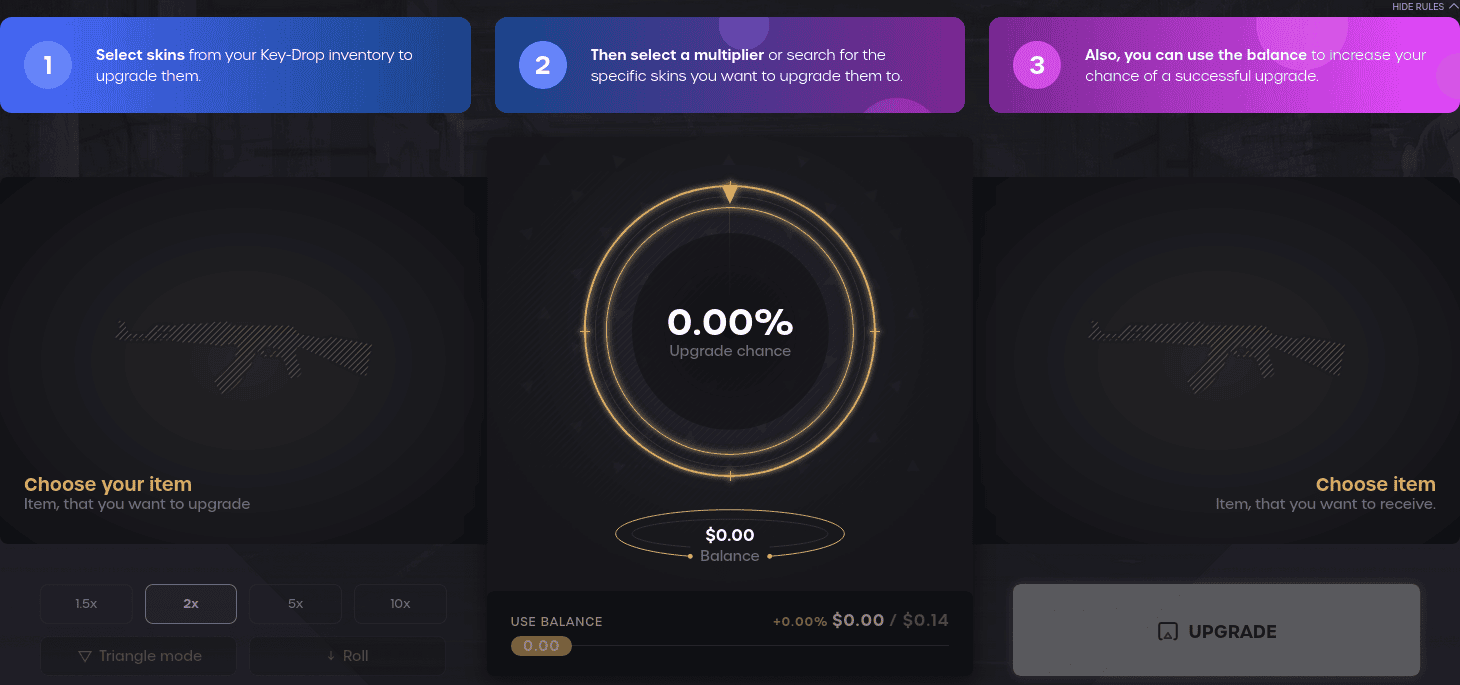 Contracts
The contract is a feature in which you can select skins that you want to put in a contract to exchange for a single item. The value of this item will be random, it can be worth more or less than the value of items that you put in the contract.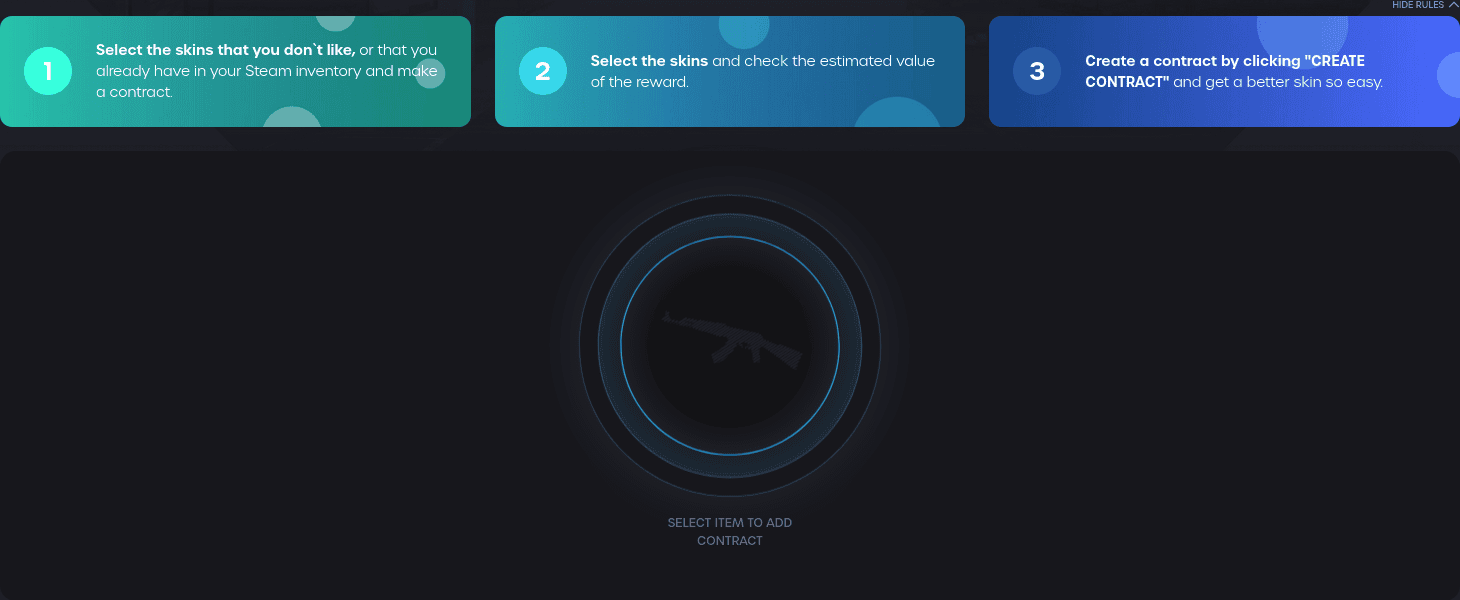 Skin Changer
Skin changer is a feature that allows you to exchange your skins for other skins of the same value. It's useful if you open skins that you don't like.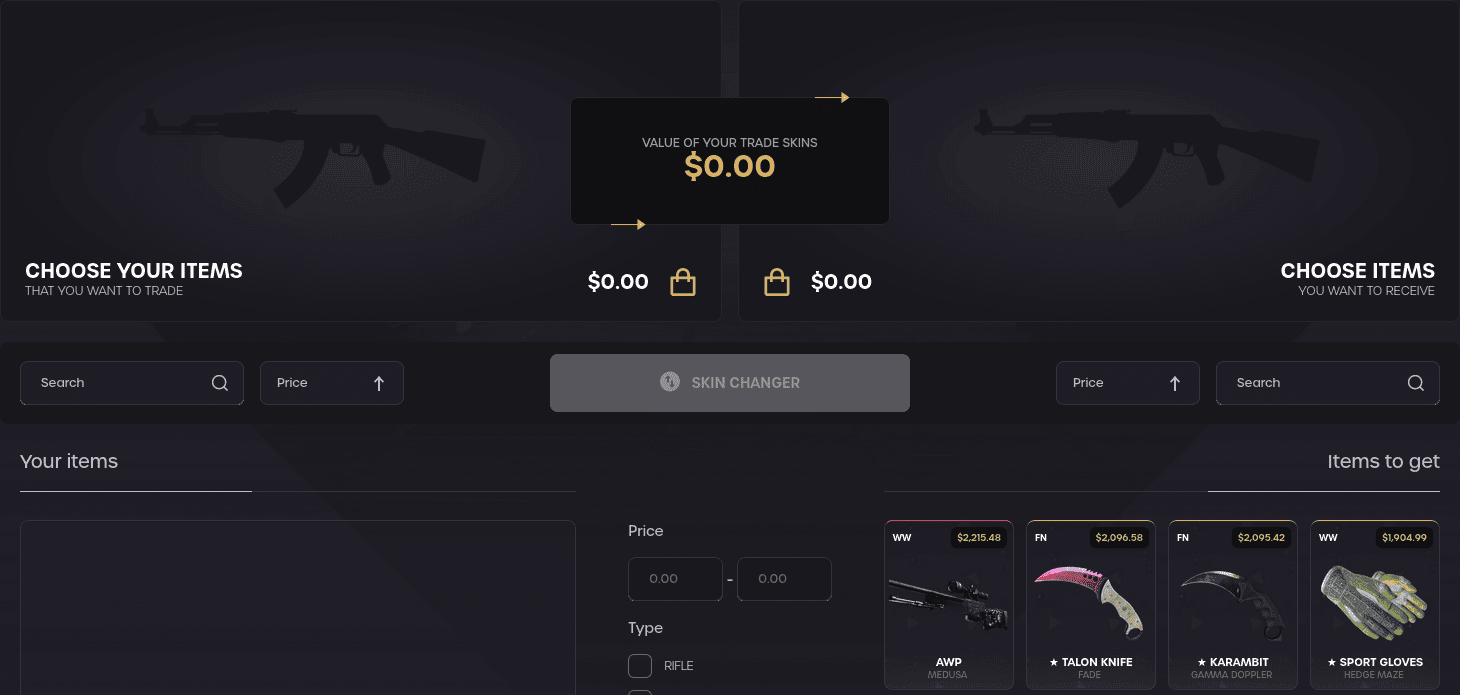 Is Key-drop.com legit?
Yes, it is a completely legitimate website with implemented provably fair system. Key Drop is used by hundreds of thousands of players every day. It has been operating since 2018. Since then Key Drop gained great reputation in CS:GO community. Key Drop has a great average rating of 4.9 stars out of 5 on Trustpilot with over 45,000 reviews!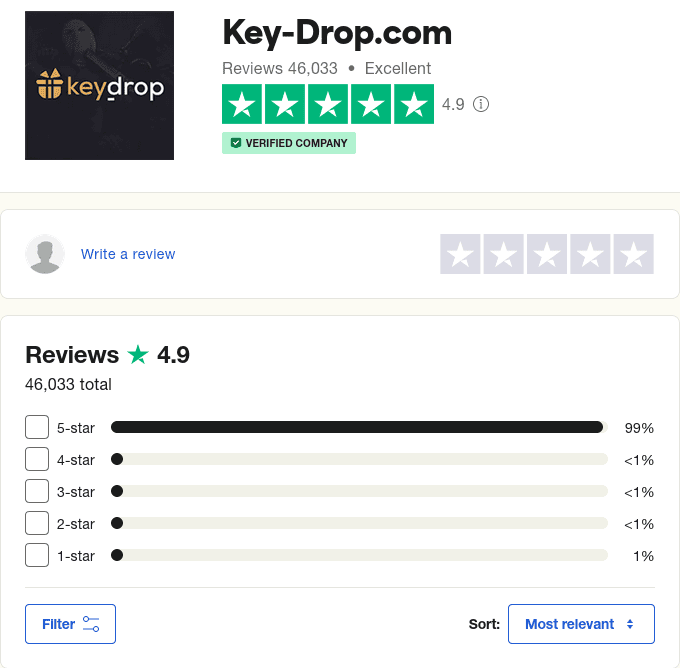 KeyDrop Referral Code
You can get a free bonus with our referral code. The bonus is only available for new users. To claim it simply enter "CSGOMARS" code in "PROMOTIONAL CODE" section
Conclusion
Key Drop is a popular and legitimate CS:GO skins gambling website. The website has several bonuses and promotions, including a promo code and golden code, daily cases, and free gold. Key Drop offers various games, including case opening, case battles, upgrader, contracts, and skin changer. The website offers several deposit and withdrawal options, including skins, cryptocurrencies, gift cards, PayPal, Visa, Mastercard, and Skrill. The website also has a customer support team available 24/7 to assist users with any issues or questions. If you are a new user on Key Drop, you can use the "CSGOMARS" promo code to receive a free bonus.